Grow Your Practice
Increase profits, improve staff performance and provide better patient care
Ready for Greatness?
"Today, my office is much more efficient. We are having a lot of fun while providing better care and services for our patients. Williams Group has given me the knowledge and confidence to be a better leader, and to turn my "good" company into a great one."
Greg Kame, OD
Los Angeles Eyecare Optometry Group
View All
Be Deliberate
We know that being deliberate about your practice results and organizing time to do that will yield great returns for patient care, staff engagement and practice profitability.  We've helped thousands of practices reach their goals, and we're confident we can assist you in reaching your next level of success.
Get Results
You desire to control your own destiny and that requires a different level of organization, coaching and implementation.  We are honored to provide that level of strategy, training, education, team development and systems refinement to result in a stronger and more profitable practice and more fun and fulfillment in owning your business.
Ready for Better Profitability?
"Our revenue per patient is up over 57% since partnering with Williams Group!"
Brian Linde, OD
New Heights Eyecare
View All
About FastTrack
We understand that you want to enjoy your practice, and with our FastTrack program you can. We will teach you how to be the best CEO you can be, which means you will learn and implement proven techniques for practice success focusing on both patient and practice care. Let's roll up our sleeves and help you achieve the practice you've always wanted.
Ready for a more engaged team?
"Not only did Williams Group help the management of our business, they also helped with team dynamics. Our staff is now closer than ever, more structured, engaged, and organized. When we work together as a team, we elevate our patient experience. That's a win for our patients and for our practice."
Jason Pingel, OD
Mission EyeCare
View All
Comprehensive Practice Analysis
Whether you would like to grow your practice, manage your profit centers more effectively, or spend more time away from the office doing things you enjoy, the key to managing your practice wisely and successfully begins with a comprehensive analysis.
Our optometric and business consulting team, lead by your personal consultant, will analyze your financial data, operations and systems, productivity, employee engagement, market and competitive forces to create strategies, objectives, and a training and implementation action plan, unique to your practice, to drive transparency, accountability, and results.
Whether you are seeking additional opportunity or an improved lifestyle, FastTrack will increase profits, improve staff performance, and elevate your patient care.
On-Site Office Visit
Your consultant will make a personal visit to your practice for a diagnostic and training session, including assessment of key metrics, evaluation of staff, analysis of office flow and design and more.
Pinpoint Practice Assessment
Williams Group is proud to offer our new Pinpoint Practice Assessment. Based on your answers to 40 thought-provoking questions, Williams Group will provide insight into the strengths and opportunity areas within your practice. By better understanding your practice, you can improve it. Complete our free assessment to get started.
Pinpoint Practice Assessment
Ready to win?
"Great ideas are a dime a dozen. It's about implementation. Williams Group provides me the tools and guidance to make significant advances in my practice. I plan to win, and Williams Group helps me do just that."
Clayton Skrzypczak, OD
Kalkaska Family Vision Care
View All
Your FastTrack program includes unlimited consulting that covers every major element of practice management as well as any other special projects you may have in mind.
Implementation Consulting
Once your plan of action is established, you'll  work closely with your consultant to implement the programs, procedures, and analytics needed to get you practice on track.
Strategic Consulting
If new and unexpected issues should arise, such as a new associate or an office relocation, your consultant will collaborate with you to evaluate and determine the best course to take.
Optimize Reimbursements while Minimizing Risk
Healthcare compliance is a very broad consideration:  medical record documentation, coding and billing, MIPS, HIPAA, security risk analysis, etc. While Williams Group has been a part of the overall evolution of your practice, we are now a part of a broader practice focus with expertise in medical record compliance.
Our Medical Record Audit Program includes:
• Record audits by a Certified Professional Coder
• Easy upload of medical records and associated documents via a secure and HIPAA-compliant system
• Analysis of records for appropriate Evaluation and Management coding
• Analysis of records for potential audit risks
• Easy-to-interpret electronic audit reports
• Follow-up consulting call to discuss audit and create a plan of action
Click Here to Learn More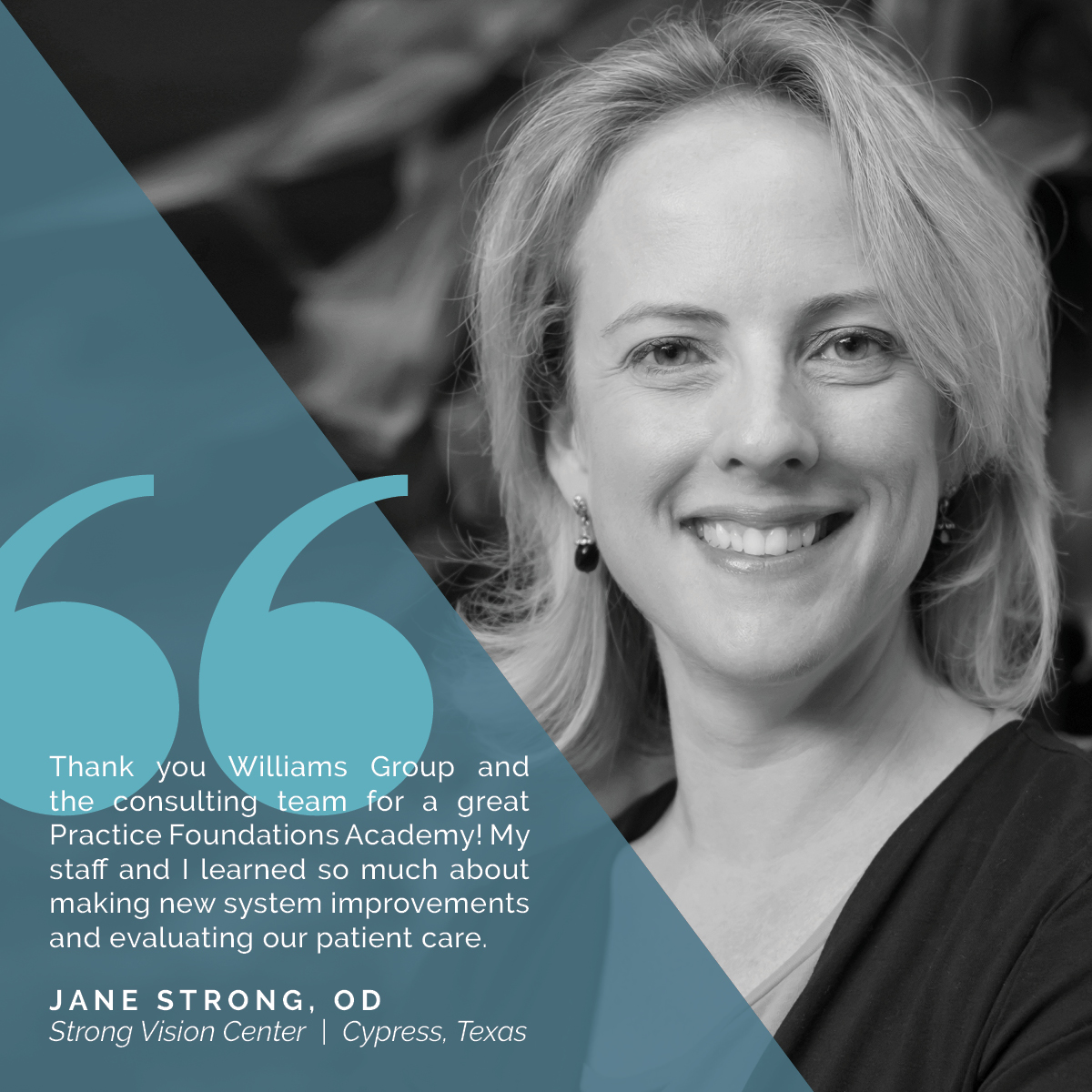 Practice Foundations Academy
Attend our two-day workshop with your staff to learn new ideas, processes and best practice technology, improve your patient experience, effectively resource your staff, strategize with your consultant, strengthen your foundation and build a culture of initiative and innovation.
Contact us today
We've helped thousands of practices reach their goals, and we're confident we can assist you in reaching your next level of success.