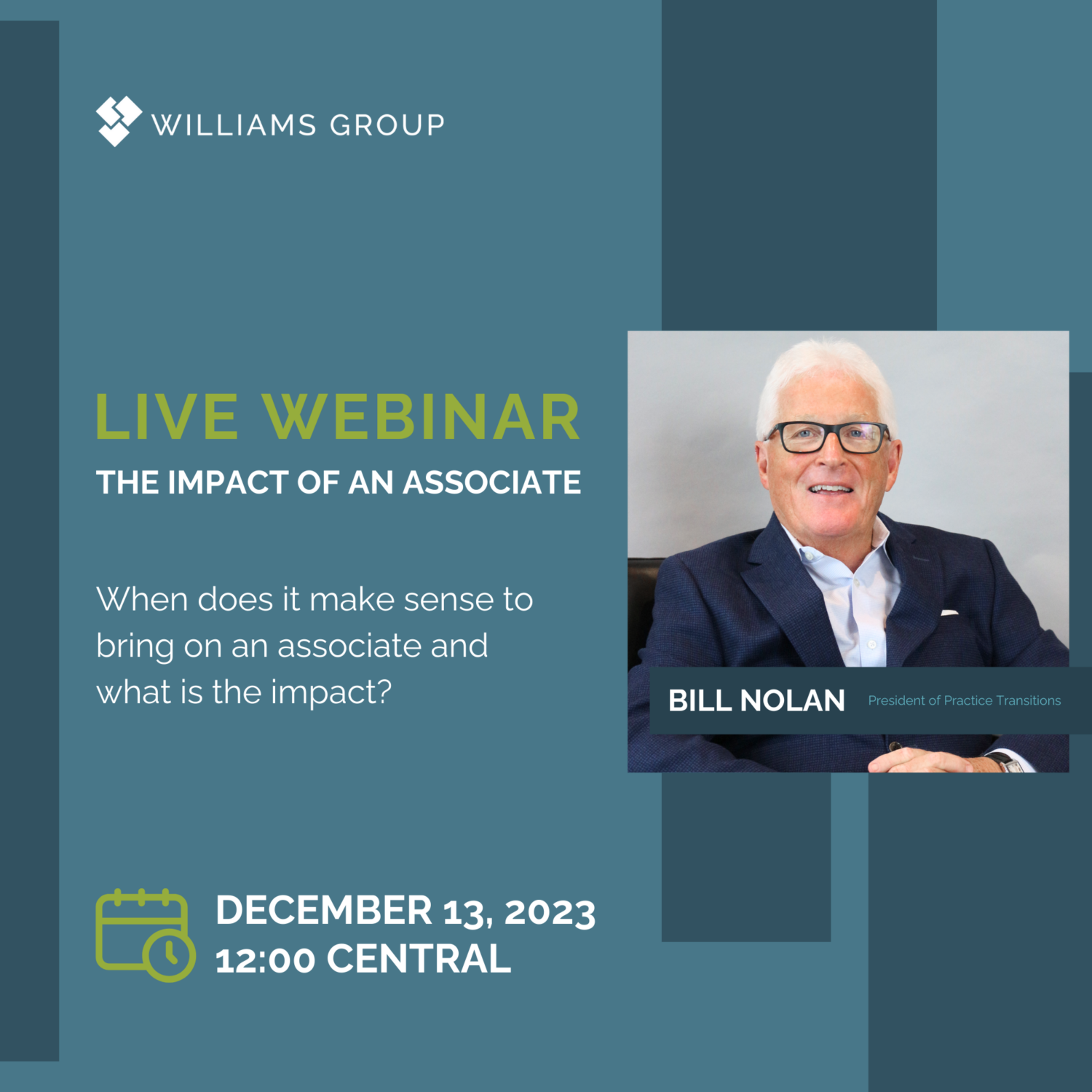 Register for our webinar: The Impact of an Associate
with Bill Nolan
Are you looking to elevate your professional journey and explore the impact of an associate in your practice? We have an exciting opportunity for you! This webinar is meticulously crafted for professionals eager to explore the dynamic benefits of bringing an associate into their practice. This is more than just a learning experience; it's an opportunity to envision and strategize the future of your practice with the added advantage of an associate. Join Bill Nolan, President of Practice Transitions, to gain valuable insights and practical strategies for collaborative practice growth.
Join us on December 13, 2023 at 12:00 central.
Optimize Your Optometry Practice's Tax Structure - Find Out How
with Brad Rourke, CPA, ABV
Watch our webinar replay featuring Brad Rourke, CPA, ABV, an accounting expert in the optometry field, for a deep dive into optimizing your practice's tax structure. Discover the most beneficial tax entity structures for your practice and understand how to maximize tax savings, especially for practices with multiple physicians. Learn the intricacies of balancing W2 wages with distributions to ensure financial efficiency. Equip yourself with practical year-end tax tips that can lead to significant savings. Whether you're a seasoned practitioner or just starting out, this webinar is designed to provide actionable strategies for all. 
Navigating the Partnership Path
with Bill Nolan
Watch webinar replay of Bill Nolan, President of Practice Transitions, as he discusses how to seamlessly navigate a partnership in your optometry practice! Bill Nolan has been in practice management consulting with Williams Group since 1989. Bill is a well-known lecturer in the industry and has presented at all of the major optometric venues in the United States, Canada, and Australia on staff management, optometric business finance, and organizational management. He also extensively consults on practice transitions and exit/entry strategies for practice ownership.
The Williams Group Optometric Success Center is an on-demand learning library. You'll receive downloadable tools that you can use as-is or customize to your practice that will help you manage and grow your optometry business. Your team will have access to live one-on-one sessions after they've completed each course to ensure your team is successfully grasping concepts. Our accountability is unheard of in the optometry industry and we strive to ensure these proven strategies are executed efficiently within your eyecare practice.  
Want to know about our services?
Contact us here.